Have you ever been curious how well you utilize your time online?  I was assigned to find that answer about myself over a 5 session period of logging my internet usage.
The first session I logged was on the 20th, as I hung out in my living room on my laptop.  I decided to get onto Facebook and scroll to see what everyone was up to, and I happened upon an article stating that a Texas school district has approved paddling as punishment.  Considering that corporal punishment has a negative effect on the development of young children, I was understandably upset.  There are actual studies available that point out the detrimental effects, so why would an educational institution implement this type of discipline?  How is it not child abuse…no, it is child abuse, but that district and state refuse to see it as such.  I read through other peoples comments, which was a mistake because it just got me more riled up.  I respectfully made my comment on this article, pointing out how harmful this type of discipline can be.  Thankfully, most of the comments seemed to not be in support of it.  I ended up receiving a phone call from my grandmother, which ended this session just short of 45 minutes in.
The second session I logged was also on the 20th after lunch.  I sat down on my couch in the living room with my laptop and logged on to find out what the daily create assignment was that day.  I decided that I wanted to choose something different, so I settled on the Robo Boogie assignment from a couple days before that I wasn't able to do on my phone.  I spent about 15 minutes just messing around on this app and making the robot dance different ways.  My kids came over and checked it out, as well, and wanted to try making him dance different ways.  They had a lot of fun!  After we settled on a dance we liked, I shared the link on Twitter.  I decided to continue to scroll through Twitter to see what people on my PLN had posted, but this only last another 15 minutes, as I had house work I wanted to get done.  It's not uncommon for me to scroll twitter and find interesting educational information to share with my fellow digital literacy classmates, but I didn't find anything at that time.  This was a stress-free and enjoyable session of simply completing the daily create with my kids and then searching around on Twitter.
The third session I logged was the 21st, and I was working on getting some homework  completed for the week on my laptop.  I had numerous questions I had to answer on Twitter, so I took to answering those questions.  The first was about when I unplugged at home, so I had to think about that and then post it on Twitter.  The second question had to do with how online life keeps me from being fully present.  My online classes are the big reason for that!  I found myself a bit sad answering this question, because it's hard as a mom to not fully be present due to college classes.  It made me think again how much I wished I would have completed my degree when I was younger.  The third question was about how we can help children to manage healthy digital lives, so I decided to look for informative articles to share with my peers.  I read and searched through numerous articles to find ones that I thought be useful.  I found three to share:  "Too Much Internet Use Can Damage Teenage Brains",  "Google Just Introduced Family Link to Help Manage Your Kids' Digital Lives", and "How Much Screen Time is Okay For My Kids?".   During my search, I received a Facebook message from a friend, and I messaged him for a little while about a project we are working on, and I was searching in between messages.  After finding and sharing my articles, I also had to answer a question about what my biggest take away was from that weeks lesson.  After completing that, I worked on my daily create and used the modern art app to convert a picture of myself.   This entire process took just under an hour, and I stayed relatively focused.  My attitude was upbeat throughout, except for when I was asked the question about my online life and what about it keeps from being present.
Before and After the modern art app…  Mmmkay.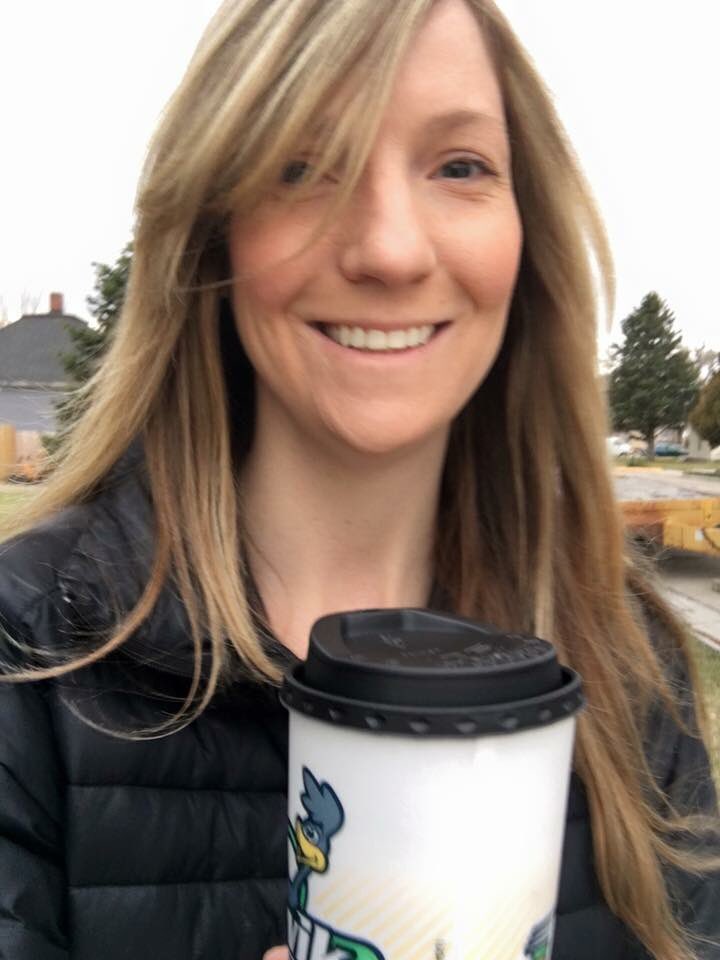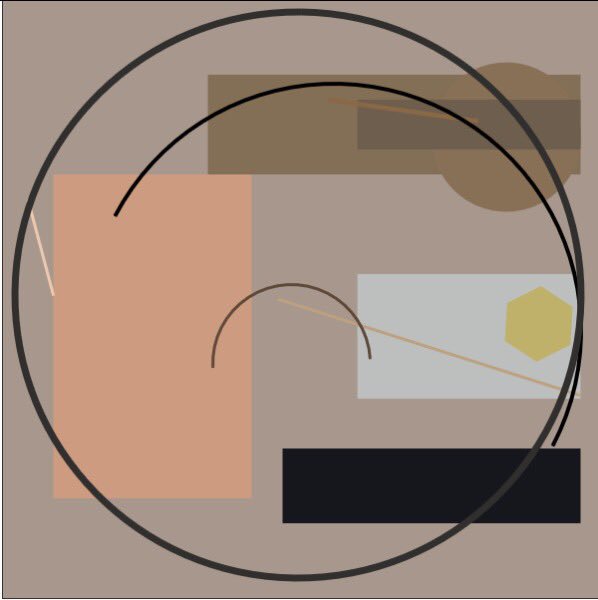 My fourth session that  I logged was on 5/22, when I logged on to Twitter from my laptop to find out what the daily create assignment was for the day.  I decided I wanted to find something different than that day's assignment, so I spent some time searching through the daily creates on Twitter and ended up deciding on making a panorama clone with my phone.
I spent a few minutes doing some test runs inside with it and then asked my older son if he would help me out.  He had friends over and they were making funny videos, so he was dressed in a Link costume from Legend of Zelda.  He was glad to help out, though, and we made it work on the first take.  It was a fun experience and we both thought it was pretty neat!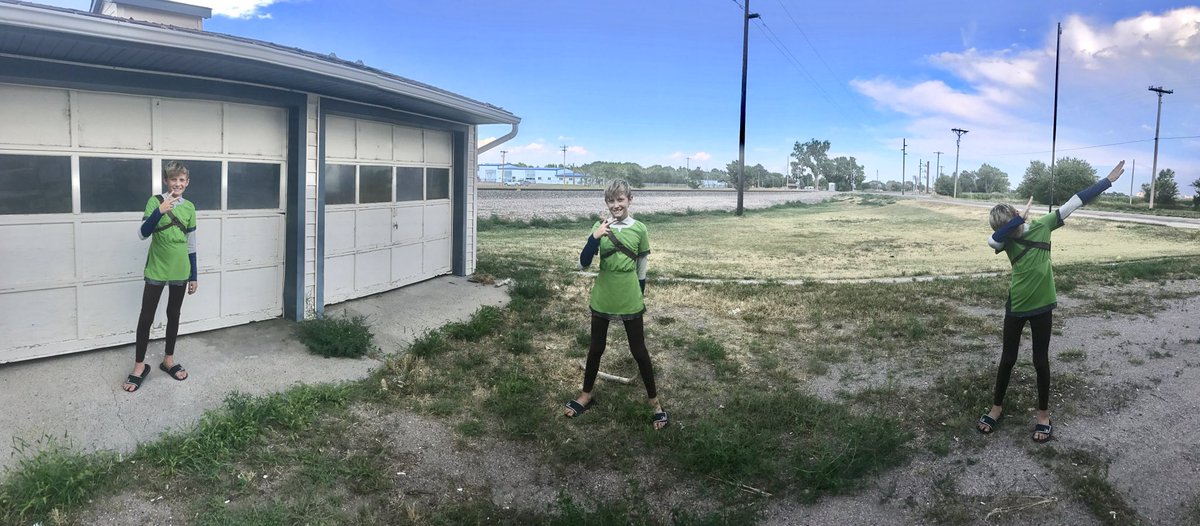 I decided to look at some additional information on internet use to see if I could find something valuable to share with my peers, and I actually came across an interesting quote by Miep Gies that really got me thinking.
"Children who use the internet are much better informed than when I was young.  Use this to your advantage."
I was thinking about how we see so much negative information out there about children and technology, and that sometimes the positives can get lost.  We are actually coming upon a time when our students might actually know more than we do when it comes to technology.  We can put that knowledge to good use, though, and be sure to teach them how to use technology appropriately, responsibly, and how to be good digital citizens.  Technology has truly opened up new doors for learning!  This session ended up lasting a little over 45 minutes.
My 5th and last session was yesterday the 23rd after we returned from an afternoon at the lake.  I was wanting to post pictures on Facebook, but I had taken a bunch that I needed to look through.  I also had ones that my husband had taken on his phone that I needed to get onto my phone so that I could post them on Facebook.  I texted photos to myself from my husband's phone and then saved them.  I also edited a few that were dark and cropped a couple on Instagram.  I enjoyed looking through all the pictures from our day and then putting them up on Facebook for family to enjoy looking through.  After posting them, I scrolled through Facebook to look at what everyone had posted.  Notifications started popping up, as people commented on and liked the photos and post from our afternoon at the lake.  Every time one would pop up I would look to see what it was, and respond if it was a comment.  In all honesty, I spent just under an hour messing around on Facebook, but it was a nice way to just relax and enjoy the air conditioning after a hot afternoon in the sun.
Through this attention log experience, I found that I was more focused than I usually am.  I think it was because I was aware of the fact that I needed to log my experience, and thus I tried to stay more focused and on task.  It made me think that perhaps I should do an attention log more often, just to ensure that I'm not wasting time.  I tend to get distracted when I'm doing homework online, and often find myself stopping to check my Facebook account or messages.  I should honestly try to log my time a few days a week to make myself more accountable.   I also want to be sure I'm not becoming too emotionally invested in what's being posted…like with the article about paddling in Texas schools.  I have enough stress that I don't need to add more.  It's often tough being a non-traditional college student, wife and a mother and trying to balance it all.  I surely don't want to be wasting my time on the internet!